Is airbrush makeup really better for bridal makeup? Many of our brides still ask us, what is airbrush makeup? Each type of makeup and application method has its advantages, so we like to make our recommendations to our clients based on their skin type, condition, and sometimes even the weather if it is an indoor or outdoor event.
Airbrush and traditional makeup each have pros and cons. Airbrush makeup is a light- weight, thin but highly pigmented consistency liquid makeup that is applied by a makeup artist through an airbrush gun that sprays a fine mist of makeup powered by a compressor, sprayed in circular motions and can be layered for desired level of coverage. The fine particles of makeup set onto the skin's surface and the foundation has a flawless effect on ideal, normal skin and it is the most HD (High-def makeup currently available). Style Hair and Makeup's airbrush makeup of choice is the Pro Performance HD Airbrush Makeup by M.A.C. which is a silicone-based formula for face and body coverage developed for HD media. It is ideal for HD TV, film, and beauty with a wide variety of color options so we can mix and match shades to customize to all of our clients skin tones. Airbrush makeup is ideal for clients with sensitive skin since it is hypoallergenic, oil free, fragrance free, dermatologist tested, non-acnegenic, and even ophthalmologist tested. Airbrush makeup ideal for clients who are not used to wearing a lot of makeup because it has a light weight feel with a natural finish and for wedding days because it is sweat and water resistant and transfer resistant while photographing very nicely. While airbrush makeup evens out skin tone, it does not correct texture imperfections such as large pores, acne, dry skin or scarring. It sits on top of the skin and does not hide problem areas where uneven texture is an issue. If a client has facial hair, the airbrush attaches to the hair and makes it look more visible. Other skincare products need to be used to blur and correct skin texture imperfections and fill in minor lines and smooth skin.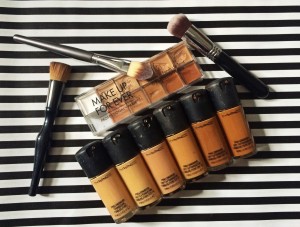 Traditional makeup is the other method used to even out skin tone. Traditional makeup Style Hair and Makeup uses for multimedia is most often a liquid foundation set with a powder. The preferred foundation is based on each client's needs, but for durability, the first choice is Pro Longwear by M.A.C. which has a light weight feel, medium coverage, matte finish, oil control, and 15 hours of wear in any environmental conditions. The Pro Longwear Foundation is also oil free, helps to control oil, is transfer resistant, sweat and humidity resistant and also photographs beautifully. It is ideal for all skin types and is also dermatologist and ophthalmologist tested and is well loved by all of our clients who have tried it. Traditional makeup is ideal for clients who need or prefer a heavier coverage or have some facial hair and minor skin texture imperfections that need to be corrected.
As a Tampa Bay area makeup artist team, we do recommend and use airbrush for clients because not only does it work well with so many skin types, it withstands the humidity of our harsh summers, looks great in multi media, but it's also a luxury service that most ladies cannot apply themselves. As a Tampa Bay makeup artist team, Lo and Anna custom blend airbrush makeup to match any skin tone to create a seamless, flawless complexion that is long wearing, sweat, and tear proof, for up to 14 hours. With airbrush makeup, there is no need for touch up, and the effect is an even, velvety complexion and texture that feels weightless on the skin, so brides don't feel that they are even wearing makeup. The ultimate goal is to enhance every client's natural beauty, and use the right products to meet their needs for a flawless, long- lasting, photo ready look they will love!